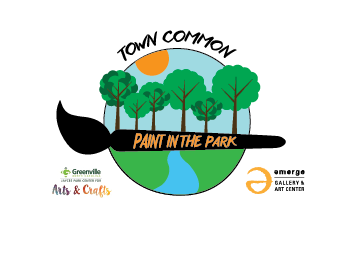 Join us in a relaxed, creative, and natural setting at the Town Common. Artists will enjoying the natural ambiance of Town Common and the Tar River, as well as experiencing the Field of Honor flag display. Whether you are a novice or experienced painter, a great time is sure to be had, while meeting other creatives in Pitt County.
The City of Greenville Recreation & Parks Department and the Pitt County Arts Council at Emerge invite artists to come to the Greenville Town Common to participate in Paint in the Park, a FREE plein air paint event. This is a bi-annual event, taking place in the fall and spring. The inaugural event took place on September 8, 2019.
Artists must bring their own supplies (paint, canvas/paper, easel, and chair if needed). We will end with a "showcase" of the paintings at the City of Greenville tent at 3:30pm.
What is en plein air?
En plein air
(French pronunciation: ​[ɑ̃ plɛn ɛːʁ])
(plān′âr′, plĕ-nĕr′)
1: of or relating to painting in outdoor daylight
2: of or relating to a branch of Impressionism that attempts to represent outdoor light and air
3: open-air : outdoor
Location: Town Common, 105 E. 1st Street, Greenville, NC
Hope to see you in spring 2021