Creative Alterations on the Wheel
Two day workshop - November 10th: 10am-4pm & November 11th: 10am-4pm
This two day weekend workshop will feature altered forms and surface decoration including wheel altered forms such as three footed pots, oval pots, and two-part pots such as making square pots with a spout. Surface decoration would mainly focus on sodium silicate, using stains with sgraffito, and textured handles.
Supply fee: $20 for 25lb clay
Students will also need to bring an atomizer. Click here for one option, other types are fine also.
Min:6; Max:10
Member Price: $175
Non-Member Price: $215
ABOUT Tom Conard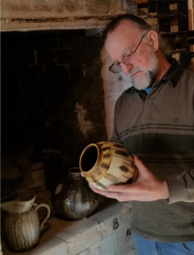 Tom Conard is a lifelong Wisconsinite, born and raised in Sturgeon Bay. He is an avid outdoorsman and gardener, with an artist's heart and soul. Tom developed an interest in ceramics in high school and studied at the University of Wisconsin Milwaukee.
Tom's love of nature is apparent in his work. His art is infused with rich natural tones, textures and patterns.
Tom works with a variety of firing techniques and processes, including wood fired reduction ware, salting, raku and various oxidation alterations. He designed a unique wood fired kiln at his home, where he creates much of his work. He loves to experiment with new processes and techniques to create original one of a kind pieces.