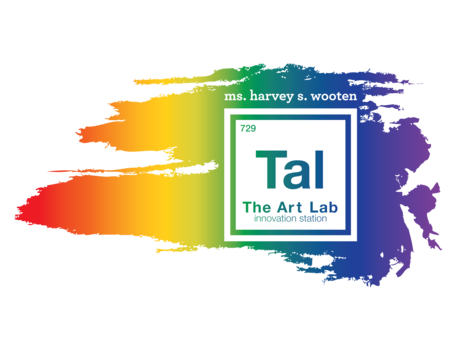 ---
The Art Lab is an Arts Incubator and Gallery administered by the Pitt County Arts Council, with partners of A Time for Science, the City of Greenville, and East Carolina University's School of Art and Design. As an Arts Incubator, the Art Lab houses four artist studios, giving the artists studio space to explore and create their art, as well as sell within the gallery space. The Art Lab is partially funded by Ms. Harvey S. Wooten.
This year's four artists are Jordan Parah, Liz Steiner, Lindsay Koontz, and Darlene Williams. Jordan Parah is a sculptor, who works with aluminum, steel, bronze, and stainless steel to create balance and harmony out of diversity. The main focus of her work is equality in our society. She received her BFA in sculpture from East Carolina University. Liz Steiner is a metalsmith and bookmaker who received her MFA in metal design from East Carolina University. Lindsay Koontz is a multimedia artist working in video, photography, performance, installation, and soft sculpture. She received her MFA from Ohio University. Darlene Williams is a painter and textiles artist. She has a passion for the healing arts and is most inspired by color and texture in nature and the science of art. She received her BA in Art Education from East Carolina University.
The goal of the Art Lab is to foster creativity and innovation by giving studio space, community arts opportunities, and business resources to our regional artists. The artists will be in the incubator program for one to three years, and there will be an application process to be considered one of the artists. In August 2019, there will also be the City of Greenville's Artist in Residence joining the studio. The Request for Proposals should be issued in February 2019. For more information go to pittcountyarts.org. 
The Art Lab is an Arts Incubator and Gallery open to the public Tuesday – Friday 12:00-8:00pm and Saturday 12:00-6:00pm. The Art Lab is located at 729 Dickinson Avenue in Greenville, NC. For more information you can go to pittcountyarts.org/artlab or email artlab@pittcountyarts.org or call 252-551-6947.